Trust plays an essential part in website marketing strategy. 
Millennials a decade ago, and Generation Z now, both are highly choosy of who they trust. Of all generations, Gen-Z'ers express the strongest desire to protect personal data and thus they won't trust anybody they meet online.
It means that brands that wish to succeed online should build trustful relationships with their audiences. Since modern users and consumers are more skeptical and suspicious about the information they get, brands should be open and honest with what they offer to the audience and how they do it.
Here are eight ways of improving your brand's trustworthiness and secure the users' loyalty in the long run.
Make Your Audience Your Focus Point
People love to know the product is for and about them. No matter what content you place on your website or social media, address it to your target audience, speak of your customers, and be sincere.
Use "You" when you're writing the article. The 2nd-person narrative puts the audience inside the story and makes this story about your readers. Thus, you take a step closer to your clients and make them more receptive to the message you are trying to convey.
And, of course, the overall narrative matters. Put the focus on your audience and its needs rather than your product and its features. It doesn't mean you should completely forget about your brand. But you should share the insights and describe the product from the user's point of view. Show the success stories and write about how users can solve their issues (using your product).
Set Up a Testimonials Section
82% of American shoppers claim they are looking for online reviews or recommendations for friends and relatives before making a purchase. That's why testimonials section is one of the best ways of creating trust and credibility among your users.
Testimonials and reviews are those kinds of things that you get for free. People love sharing their thoughts about what they liked and (unfortunately more willingly) on what they didn't. Choose the best testimonials to show them on your website and try to solve the problems that dissatisfied users reported. If users see that your product or service has helped other people, they will be more likely to trust you.
Check Your Reputation Online
Most people learn about brands when doing online research for a product or service. You may be surprised how much users may learn about you from a single SERP. You may find out that you have negative reviews or mentions that lower your rating. Check out those reviews, reach out to those who wrote them and try to fix the issues they described.
Check out the mentions of your website all over the web. Those may be various articles, user reviews, and recommendations, etc. If you find outdated or inaccurate info about your brand and its product – don't hesitate to reach out to the author of the review and ask to update it. You can even offer to fix some parts (rewrite passages or make updated screenshots).
Tip: use advanced Google search operators to narrow your search and find specific pages that mention your brand or exclude your website from the search results.
Provide Knowledge Resources
Creating helpful content that shows how to solve the users' issues, is one of the best ways of attracting more customers. People don't care about your product and its awesome story. They need to know how your product can solve their issues. So you should offer them content that can help. Use tools for keyword research to find out what questions your users ask to find solutions to their problems – and create comprehensive articles based on those questions.
Don't try to promote your product in every such article – you should genuinely wish to help your users. Use your blog as the knowledge section where you are posting how-to guides, case studies and other helpful resources that will show your potential customers that you care about them, not your profits. Create a YouTube channel where you can post videos about the use of your products, successful use-cases, and reviews.
In the world where "a photo is worth a thousand words" we see too many stock photos roam across hundreds of websites. People hate stock photos for their average look and lack of personal touch. Of course, not all websites have enough budget for unique media, but you can carefully choose photos and adjust them so they look more personal.
Consider hiring a professional photographer at least once to take the real photos of your team and office space. This way you kill two birds with one stone. You get high-quality photos and you establish a unique presentation of your brand online. If you do use stock photos, try to add some personality. Don't hesitate to edit those photos (if allowed) by adding your logo or text.
People hate it when the brand is focused only on itself. But two self-focused sections can help you build trust: About Us and Team pages. Users like to know who stands behind the brand and what their personalities are. Adding a personal touch to the website helps to boost credibility.
You can combine both pages and show your team photos on the About Us page. Or create a separate page to share your employees' stories. Ask your colleagues to write short bios and include a few nice personal details there. It not only gives your customers an idea of who they are working with but also adds a personal touch to the business.
About 94% of customers are said to be loyal to those brands that show more transparency about their product and services. Users are also more likely to pay for the products that have clear documentation and are open about their specifications. Сustomers won't tolerate shady businesses anymore.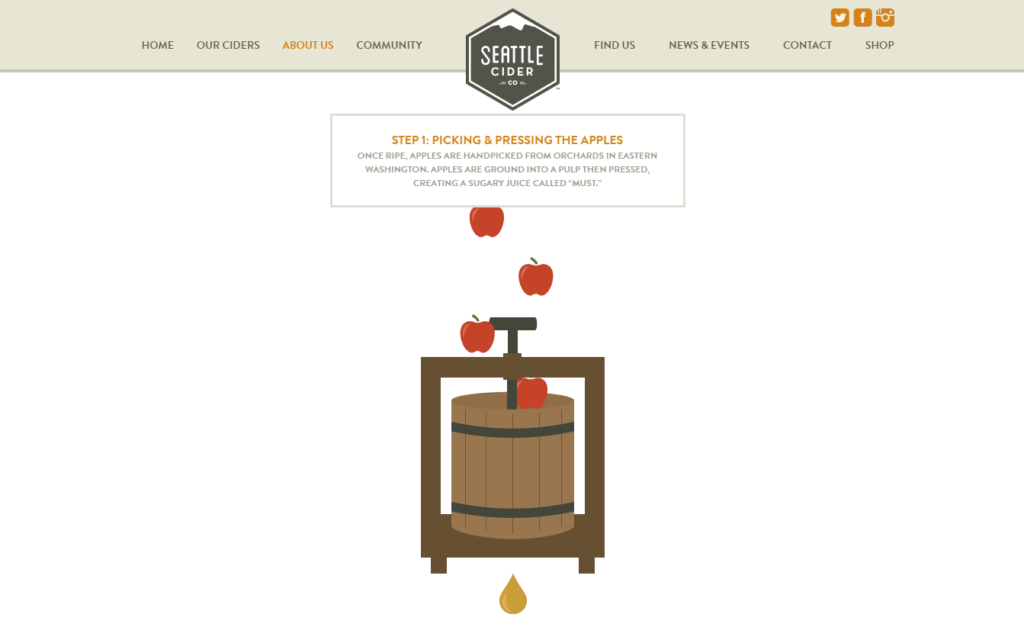 Tell your customers about your product as much as possible. What are its characteristics, what are its potential pitfalls, what it is made from and how its parts can affect their lives and environment? Be transparent about your brand and you will be rewarded with the customers' loyalty.
Your website is often the first place you connect with your customers. If it doesn't meet customers' expectations – they leave. You should make sure that your website is user-friendly and has all the necessary information and contacts. A site that takes forever to load or is not mobile-friendly loses visitors in a split second (this means a high bounce rate).
You should take care of all errors your pages may have. Consider asking colleagues, friends, or family to review your site for errors and to test its usability. Use their insights, as well as feedback from users, to check everything and fix problems.
Keep Your Ear to the Ground
The trust-oriented website is the base for strong relationships with your customers. Quality design, user-focused content, clear messaging, and communication are elements that help you build trust online. 
But it's consistent work, and you should always remain aware of the signals your audience sends you – positive or negative.